What came first – the chicken or the links?
Wait. No.
That's not right.
The content or the links!
It's a question we get asked a lot and one we wrestle with fairly often. The trouble is, both content and links are very important for any SEO strategy.
Links send readers to your site and a lot of good content will grow your audience and ultimately drive conversions. But which one do you choose to focus on first?
Ideally, you'd focus on both. But if you don't have the time or the manpower, you have to choose one to start with first.
Content creation or link building?
It's difficult to build a lot of links and create useful content at the same time, especially if you're a small business or a one-person enterprise.
We'll take a look at both strategies, the pros and cons of both, and maybe by the end of this post, we'll have a concrete answer. (Spoiler alert: we will.)
Content vs. Links
Two strategies go head-to-head in a bloodthirsty battle. Which will the SEOs choose as their #1 strategy?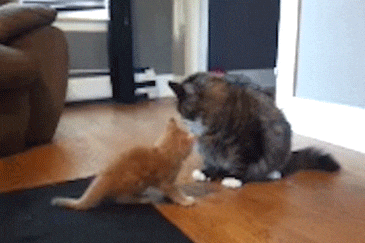 If you already have an opinion on content creation or link building, read with an open mind. Both have qualities that are worthy of your consideration.
Content First
Okay, content should come first because it's naturally valuable. It is the foundation on which you build your long-term strategy. And if that content is good and evergreen, oh man, that's good. Really good.
You want to establish yourself as an authority and for people to keep coming back to your content. Reap the rewards!
It's what people in The Biz call "cornerstone content." That content acts as a representative of your site. It's the content people will link to all the time because it's always useful and relevant. 
Starting with content provides instant value.
That's a pretty obvious criticism of the link-first strategy. If you start by going hard on the link strategy without any real content, you don't have a reason for anyone to link to your site.
But if you create amazing content that people want to read, you give people a good reason to care, to keep coming back, and to share your site with other people. 
People love good content that provides value and goes in depth. Everyone says that no one reads on the internet anymore. They just skim. 
But the people that do read? They want useful content they can share with other people.
If you create that kind of content, you'll have a solid foundation for your site's future.
Good content sets people a-sharing.
The power of social proof is strong, y'all.
Think about the last thing you bought online. Did you buy it without looking at the reviews? Or checking to see if a friend had bought it first and if they liked it?
Or maybe you were even tempted to look up the product because you'd seen a review of it.
It's the same thing with websites. You're going to trust a website that is linked to from another website or person you trust. 
If you can create content that makes people hyped to share it, then it'll be easier for you to get links back to your site.
Want to know what, exactly goes into our Digital strategy?
Read our ultimate guide to digital marketing—6,500 words explaining exactly what you need to know to make an informed decision when hiring a digital marketing agency. Learn what goes into SEO, content strategy, PPC and more.