One of the greatest (and sometimes the most frustrating) aspects of social media is the fact that it is always changing. And we're not just talking platform limitations or developments or new, weird interfaces (we're looking at you, Snapchat)—it's the fact that every single Instagram post, Twitter hashtag, and Facebook changes the landscape forever.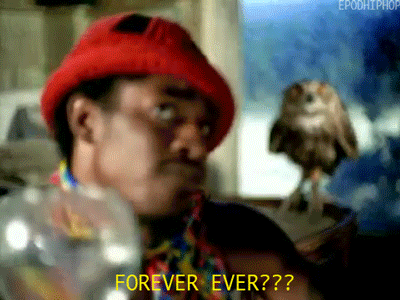 Although the majority of social media accounts are for individuals, social media strategy for business is becoming increasingly important. Why use social media for business?
Most businesses—even small local ones—have social media pages. But many of them lack regular posts, a brand voice, or even a purpose. It's not enough to just have an account on the primary platforms—your social channels are an extension of your business and should be treated with as much care, strategy, and maintenance as your website.
Stressed out yet? Don't be! Take a deep breath and keep reading and we'll go through some simple steps on how to use social media for small business that will improve your brand or your client's in no time.
1. Take Inventory
As the first step to your social media audit, take a look at what you already have going for you. What accounts do you already have? How many followers/fans do you have? There's really no wrong answer here—this is just to give you a starting point from which to grow your social brand and following. Take thorough notes when you start on your audit so you can relish in the results from the changes you make.
Once you know your own numbers, check out your competitors.
Who else in your space do you admire, and why? Do they have great imagery? Lots of comments and likes? Funny posts? A great blog? Use those to create finite goals for your brand or company, both long- and short-term. Not sure where to start? Try these three potential areas for improvement:
Followers and Fans: Set a goal to increase your fan base by, say, 10% over 6 months.It's not such a reach that it feels impossible but gives you a solid aim to work backward from.
Shares: Followers and fans can be huge assets but to have a brand advocate is another level.Will you create a contest that asks fans to share a post for a chance to win? Will you ask customers to share a photo of your work for a discount? Or will you just post awesome, share-worthy content that your followers want their friends to know about? Set even a modest goal—say 2 shares per month—to push yourself to create shareable content.
Sales: Probably the most obvious of goals. Tracking your sales from social media is a great way to confirm that you're doing a good job and that your social channels are helping to further your brand and make you more money. If you don't have click-through tracking, you can offer exclusive discounts through your social channels (ex: "Mention code TGIF for a 10% discount on weekend services) to see exactly what leads you're generating. If you make it your goal to increase sales by 10% over 6 or 12 months through social media, you'll know you're using your channels wisely.
2. Listen Closely
Social listening platforms are an excellent way to make your social media management easier, especially the use of free social listening tools. One of the most popular, Hootsuite, will allow you to put all of your social feeds in one place—allowing you to post interactions between your brands and other handles, as well as monitoring trends and allowing you to jump on any content opportunities at a moment's notice (because if you're late, it's over).
Another great time-saving benefit of Hootsuite is the ability to schedule posts. We wouldn't recommend scheduling every single post—part of the novelty of social media is that it's extremely timely and reacts to of-the-moment news and culture—but the Hootsuite autoschedule feature can give you an easy way to post some regularly-occurring content (say, your company blog) without having to be logged in at the exact time you want to share. There are lots of great social listening tools out there—each with their own merits—so when you're ready to really start sharing social content, try a few out to see what works best for your needs.

3. Manage Your Community
An under-utilized aspect of social media is community management. Ideal community management uses social media as an additional layer of community service. Gone are the days where people have to call a 1-800 number to talk to someone to find out more information, give a compliment, or complain. Customers, prospective employees, media, and random internet people will comment on your posts at any given hour of the day. If you don't respond to them, you're giving them control of your brand.
But if you do respond—and you should do so in a timely manner—you have the opportunity to provide personalized, on-demand customer service while representing your brand in a very positive way. You don't have to dedicate much time to it, but checking in on your comments once or twice a day to give a thoughtful response (not just a passing like) is hugely important.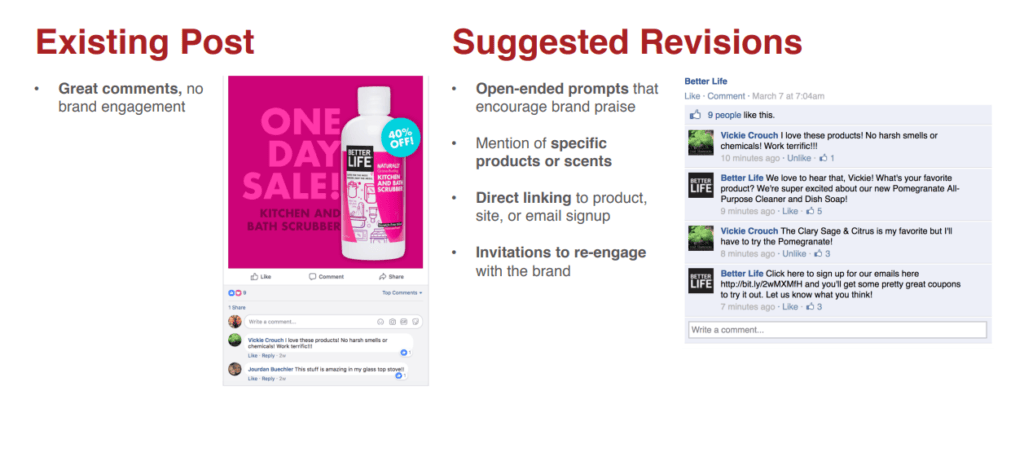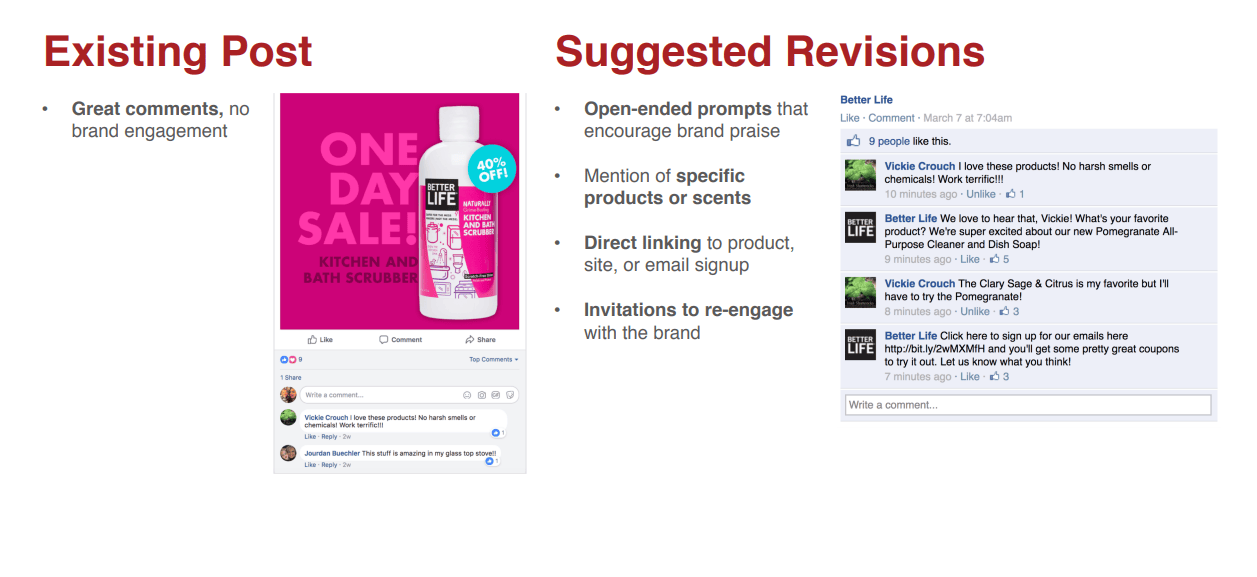 As an added step, do what you can to respond with open-ended questions, point out offers, and make the experience personal. The more that customers interact with your brand, the more likely your post is to break through social network algorithms and get more visibility while supporting your brand.
4. Keep It Consistent
Do your best to create consistency across your channels. This means your brand voice, type of imagery, and even the most basic aspects of your accounts—social media handles. As a general rule, your social media handles should be as similar to the name of the business as possible, unless your business name isn't indicative of the service it provides.
For example, if your business name is All Natural Cleaning, try to make your handles as close to that as possible, such as @allnaturalcleaning.
If your business name is taken, feel free to add something logical to it that won't confuse the identity of the business, and can even clarify what you do. For example, if your business is All Natural Cleaning and @allnaturalcleaning is taken, try @allnaturalcleaningstl.
On the other hand, if your business name doesn't inherently describe your service, consider adding a clarifying word (remember to keep it short). For example, if your business name is a bit vague—like Jones Homes—it may be worth adding something to what would be @JonesHomes to confirm what it is that you do, such as @JonesHomesConstruction, @JonesHomesRepair, or @JonesHomesRealEstate. This allows your brand to be visible and easily understood without creating confusion.
5. Be Strategic with Hashtags
One of the easiest, and most affordable (AKA free) ways to boost your social presence, particularly on Instagram and Twitter, is the use of hashtags. But you shouldn't just use any old hashtag. What's the point of hashtags? They typically fall into two groups: vanity hashtags and utility hashtags.
Vanity hashtags can be used for humor and branding. They likely won't get you much traction marketing-wise but can help support your brand voice and identity. You can absolutely use vanity hashtags on every single post, but they shouldn't be the only ones you use.
Utility hashtags are used to categorize your business' posts and make them highly searchable. These hashtags are indicative of your business, product, and often the specific item or service featured in the post. The majority of your hashtags should be utility hashtags, which you'll see in the next step.

6. Do Your Research with Hashtagify
Speaking of hashtags, it's not always obvious which ones you should use. You can take a shot in the dark as to what makes the most sense for your posts, or you can use a (free!) tool like Hashtagify, which tells you tons of hashtag stats—including their popularity score—helping you determine which are the most searched.
Here's a snapshot of a quick audit we did for a local cleaning product company, Better Life.
By searching hashtags on Hashtagify before implementing them, we found that the hashtags in the right example had the highest amount of search volume, which means that people looking for services in-line with what Jones offers would likely use these hashtags to find companies. We also kept the vanity hashtag, #BetterLife so that prospective customers can find tagged photos that the Better Life account didn't post themselves, and to inspire former and future customers to share photos and tag them accordingly.
7. Maintain Consistency
One of the most important pieces of social media is consistency and scheduling. That's not to say that you need to bombard your audience with relentless posting—good content is always key for any kind of marketing—but you shouldn't start posting and then suddenly go off the grid. Social media is about relevance, so it is your job to maintain that feeling across your channels.
Consider a content calendar! Creating a content calendar is a great way to keep yourself accountable for publishing regularly, and there are lots of great free tools out there (we like Monday in addition to Hootsuite).
Again, there's no need to make it super strict, but if you can commit yourself to, say, a post across your chosen channels every Monday, Wednesday, and Friday, you can set yourself up for success.
Some ideas that can help inspire social media posts are:
Case studies/work that you've done (with your client's permission to share)

Cultural happenings in the company—new hires, celebrations, office developments, or other fun things

Things to look forward to—new projects, expansions, or possibilities

Promotions—deals, coupons, or packages, especially if they're "exclusive" to the social post, which can help you confirm your ROI

Current events—What you're doing for a holiday, special events going on in your city or demographic, or world events. It's always a good idea to stay out of anything polarizing or political, and to not reach too far outside of your business' realm in an attempt to be relevant
Using social media for business can be complicated, and it takes a lot of trial and error, but it's worth it. Social media is an extension of your brand and your customer

service

and can take a good business and make it great.
Curious about how social media can benefit your company or your client? Contact us at 314-665-1655 or on our website to get started.