It doesn't matter how fantastic your content or design is inside your email if no one even opens it.
If you can't get them to open it, then you have no idea whether or not your content is effective, and you're just shooting in the dark.
So how do you break through the noise of a full inbox?
With a damn good subject line.
If your subject line isn't enticing, interesting, a little mysterious, or revealing enough, then you'll get marked as read or deleted on the spot (the horror!).
But at the same time, you can't trick your readers into opening it. So, how do you go about writing subject lines that aren't spammy but still clickable?
Writing Subject Lines People Want to Open
Unless you've somehow dodged sign-up forms, never told anyone your email address, or you're actually some kind of government spy, you have at least a few emails in your inbox every day — and so does everyone on your subscriber list.
There are over 120 billion (with a B) emails sent each day. That's a LOT of emails.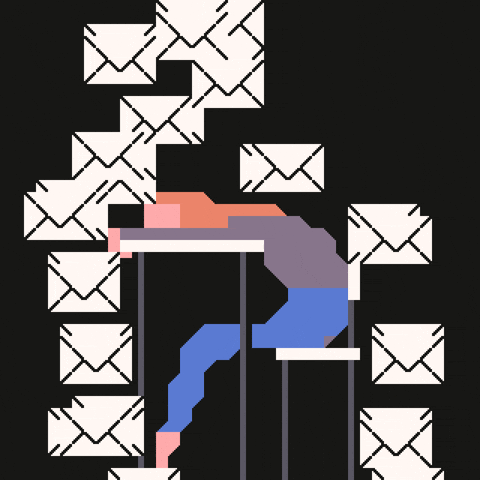 And somehow, your little monthly newsletter or your sales email has to stand out amongst all the competition.
Here's how you can optimize your subject lines and make them enticing so people want to open them.
A/B Test (A LOT)
A/B testing allows you to test and compare the performance of different subject lines and other variables in your campaign. You can split your entire list in half and send one section the A test and the other the B. 
Or, if you have a large enough list, you can send the test to a fraction of the list, say 25%, and then send the winning test to the other 75%. 
You might be thinking, "Can't you just give me some hard rules for writing subject lines so I can be on my merry way?"
And to that I say, there are some evergreen tips for subject lines that you should definitely try, but the critical thing to remember is that everything depends on what your audience likes. You never know what they're going to like unless you test and test often.
Subject line options to test
Do they prefer it when you use all lower case or traditional title case? Or written like a sentence?
For example: "an exclusive offer just for you" vs. "An Exclusive Offer Just for You" vs. "An exclusive offer just for you."
Emojis or no emojis? 
For example: "????New dresses in stock!????" vs. "New dresses in stock!"
Do they like it when you personalize it and use their first name?
For example: "Sam, here's a chance to use your coupon" vs. "Here's a chance to use your coupon."
Can you swear in the subject line?
For example: "These are the best damn restaurants in St. Louis" vs. "These are the best restaurants in St. Louis."
Does your open rate go up when you put a descriptor in the brackets?
For example: "Your Guide to Writing Subject Lines [Infographic]" vs. "Your Guide to Writing Subject Lines"
Do they like it when you just put the title of the blog post you're promoting or do they like it when you're a little more mysterious?
For example: "Writing Subject Lines Your Fans Will Click For" vs. "Finally learn how to write a good subject line."
Your audience and whatever they like dictate your subject line style guide. Don't be afraid to think outside the box and try something creative. They just might like it.
And if they don't, it means you learned something important about your list. No A/B test is a failure because you'll always learn something from one.
Do's & Don'ts of Writing Subject Lines
There are about a million articles out there about the finer points of writing subject lines, and they make them seem as if their guidelines work every time.
There are general rules to follow, but again, run A/B tests to optimize your emails.
Do:
Keep your subject lines shorter.
77% of email opens are taking place on mobile (and that number will likely continue to climb), so using shorter subject lines ensures people who are scanning their mobile inbox can see the entire subject line. 
Convey a sense of urgency.
Not quite so urgent that it makes people fear for their lives, but more like "[Sale Ends Today]" kind of urgency. You want them to click, not to sue you.
Offer some kind of value.
Tell them about a 15% off coupon you're offering. Or a free webinar. Or anything else that will make them think "oh cool" and then click on your email.
Tell them what the email is about, but leave a gap for curiosity.
You can (and should) tell them what's inside. For instance, if someone downloaded an offer that you're delivering via email, that's an excellent opportunity to use a subject line like "Your new eBook inside!" or "Your coupon awaits!" It's better than a simple "thank you" in the subject line because it makes it clear what they're looking for is in the email you just sent. A descriptor like "[Infographic]" or "[Webinar]" in the subject line could work really well too.
Keep your audience and goals in mind.
What action do you want them to take? Are you trying to make a sale? Offer up a promo? Are you just reaching out to stay top of mind? Your overall goal will determine what information your subject line will include. You can connect your subject line to your main CTA for an added punch. 
Personalize it! 
Adding the recipient's name can build a feeling of rapport. But because some people might think it's creepy that you know their name (even though they likely typed it into the sign-up form), this is definitely something you should test.
Make people feel special. 
Exclusivity is a powerful drug. When people feel like they're on the inside, it gives them a sense of belonging that could build loyalty and compel them to convert better on your emails.

The right phrasing can make them feel special. For example: "For our beloved customers only," "[For Insiders Only]," and "An exclusive offer just for you" are bound to make them feel warm and fuzzy.

Post a compelling question.
Make them think "Oh, I never thought of that" or "I've been wondering that for weeks," influencing them open your email.
For example: 
– Do you know what your website is doing wrong?
– How long does SEO take to work?
– Are you making these PPC mistakes?
– Are you saving money the right way?
– Do you actually know how to write good subject lines?
If you can be punny, do it.
Most people love a good pun. If you can get a chuckle or even a groan, they'll likely open your email. Just don't overdo it.
Don't:
Lie to your readers.
Lying to your readers about what's in the email is a surefire way to make them hunt for the unsubscribe link. No one likes being lied to, especially by an email subject line.  
Try dirty tricks like adding "re:" to the subject line. 
This is basically a continuation of the "don't lie to your readers" tip, but it's still worth mentioning. You desperately want people to open your email, so you add "re:" to the subject line, making your readers think they've emailed you before. It's lying to them. It's sneaky. It'll make them unsubscribe (believe me, I've learned the hard way).
USE ALL CAPS or overuse exclamation points!!!!!!!!!!!!!!!!!!! 
People don't like being yelled at, and it looks spammy AF. It could get you sent to the spam folder. Instead of being disruptive and annoying, try the positive and personalized tactics we talked about above to stand out from the crowd.
Include a question and an exclamation in the same subject line. 
"Want a solution fast? Act now!" sounds, as the kids say, hella spammy. The PLING_QUERY rule means that the email server is going to flag it as spam if it contains both a question and exclamation mark in the subject line. Not only is it overdone in every ad ever made, but it'll also alienate your audience. You should know them better than to ask an open-ended, vague question like that in the subject line. 
The dirty tricks have all been done before. They might help your open rate a lot in the short term, but your click rate will go down as your unsubscribe rate goes up. 
That isn't ideal.
While open rates are significant because you need people to open your email to see what you're offering, the ultimate goal is to get them to engage with your email past opening it.
Be patient and test everything
The biggest takeaways from this post should be "test everything" and "don't be spammy."
It can be hard to stay away from spammy tactics when your superior is breathing down your neck for more conversions, or you're desperate for more sales for your small business. Unfortunately, though, writing subject lines that could get flagged by a spam filter won't help you reach your business goals. 
Know who your audience is and what they like. Let your audience guide you in the right direction via A/B tests, and it'll pay off in the end.
If you need help creating a long-term digital strategy, contact Digital Strike. We can put together a strategy customized to you and your business' needs. It all starts with a free consultation.