You've probably heard your marketing team talk about it all the time – The Customer Conversion Funnel.
"It's all about getting customers to go through the conversion funnel."
"This strategy is for 'top of the funnel' customers."
"We have to funnel customers through the customer conversion funnel."
We never shut up about the funnel, honestly.
Which is why we thought it was time we actually explained it.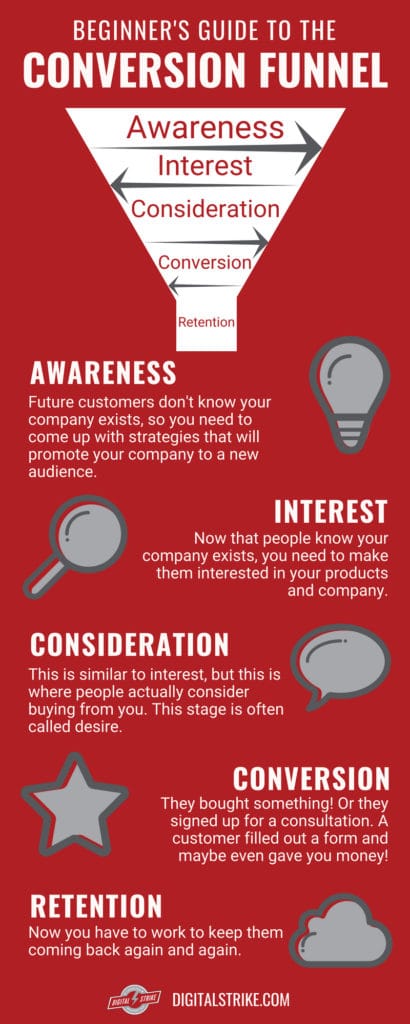 It's just the customer's buying process. You've gone through the funnel yourself countless times whether you're aware of it or not. Every time you buy something, you're in the funnel.
Even if you're currently generating sales, it helps to understand the buying process so you can leverage the basic concepts and guide potential customers through the funnel.
Let's break it down.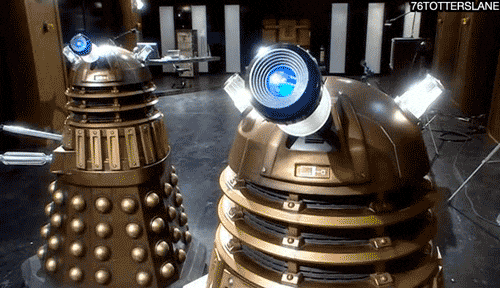 Breakdown of Customer Conversion Funnel
Since an infographic can only help you get the gist of a topic rather than a complete understanding, let's dive into each part of the funnel.
Brand awareness
Right now, the customer doesn't know you exist. The goal here is to come up with marketing strategies that will promote your company to a new audience, thus, creating new brand awareness.
This is a little easier said than done, but there are plenty of ways to achieve it. It depends on your goals and how much you can spend. 
Since people don't know about your company and they just know that they want or need something, they'll probably start at a search engine. Which means that one of the most effective ways you can generate more brand awareness is to improve your SEO strategy.
A higher ranking increases your chances of getting noticed and more organic traffic to your website. 33% of clicks go to the top search result on Google. In fact, the first page controls 75% of all clicks.
That's a lot of clicks.
So if you've ever wondered, "why are so many businesses investing in SEO?" That's why.
Social media is another way to generate brand awareness. Not all consumers are looking to buy things on social media, but it's still a great way to introduce yourself and give yourself some credibility. 
If you stay active on social media channels and post new content often, you can grow your follower list and engagement rates. 
Generate interest
Now that people are a little more familiar with your company and brand, it's time for the next stage in the conversion funnel. 
You need to come up with ways to create interest in the products or services you're offering. Content strategy is going to be important here because you'll need to use your website to your advantage.
What's the point in having one if it isn't going to pull its weight for you? Get a homepage and a website that converts.
Your website needs to provide visitors with as much information as possible about your business so that it can answer any questions they might have. That's how you add value to your website.
If someone is looking for a product or service that you offer, your website needs to tell them all about it and provide any necessary information potential customers are looking for.
High-quality and accurate content on your website will make potential customers trust your brand.
Which is why you need a blog. 
If you're the one educating them, they'll be more likely to buy from you over the competition. You'll seem like you know what you're talking about, and that air of competence and confidence will work in your favor.
Your collection of content will help guide consumers through the conversion funnel and hopefully generate interest in your company and eventually leads.
In the brand awareness section above, I said improving your SEO efforts will help create brand awareness. Blogging is a top SEO tool, so it helps both parts of the funnel.
Two birds, one blog.
More people will find your website because of your blog and hopefully the content there will keep them interested as they continue through the funnel. 
Consideration
Consideration is pretty similar to the interest stage of the funnel, but with a key difference.
At the interest stage, they're getting to know you but maybe holding off on buying anything. At the consideration stage, they're actively considering giving you their money.
This is where you give them an incentive to complete the purchase.
When they're interested, they may have read your blog posts, signed up for emails, or downloaded your whitepaper. But none of those things generated a profit for you.
This stage is sometimes called "desire" because you're trying to make the consumer desire what you're offering. You have to make your company look more appealing to the customer and show them why they need whatever it is you're selling. 
The customer is weighing a lot of options while they decide what to buy and from where to buy it. 
They're comparing cost, quality, and the convenience of the product or service. Offer something like a coupon on their first purchase, feature customer testimonials, make sure your product spec sheets are comprehensive, offer a free trial, or show a live demo. 
Give yourself an edge on the competition by giving the customers a reason to buy your product or service over your someone else's.
Conversion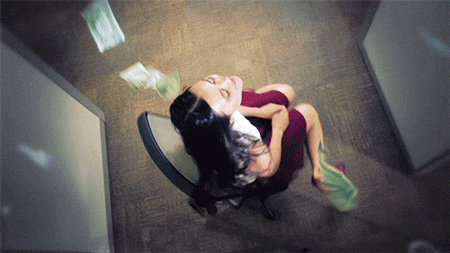 Woohoo! They decided to buy from you! They think you're the best choice and they want to give you their hard-earned dolla-dolla bills. 
But the sale isn't complete yet. It's not over until it's over.
Let's say a customer decides they want to buy from you. They've added the item to their shopping cart. But then they never end up buying it.
What happened?
Figure out why customers are abandoning their cart. Where do they stop? It might be in the check-out process. 
Test and refine your check-out process so that it's seamless and easy to use. Make it so easy that they don't have time to think "hmm…maybe this isn't such a good idea after all."
That way, you get the finalized conversion, and the customer gets the product or service they want. 
Retention
So many conversion funnels come to an end at conversion. But there's a part that they're missing. 
Customer retention. It isn't enough to get a bunch of one-time customers. You want those customers to keep coming back, and then they tell their friends about it, and then their friends keep coming back, and so on.
You'll need to come up with additional marketing campaigns to entice those customers back in the future. It's a constant cycle, but one that will hopefully get easier as you grow your business and your customer base.
The Takeaway
The customer conversion funnel is one of the most iconic images in marketing. It's always on our minds when we're coming up with comprehensive strategies for our clients. How best can we target each section?
There are many variations of the funnel and different terms people use to describe each section. But the concepts are virtually the same.
We've scratched the surface on the basics of the conversion funnel, and you can use them to implement strategies to gain more customers and conversions.
Or, you can ask Digital Strike for help. We've made it our business to come up with comprehensive and personalized digital marketing strategies for companies big and small. Drop us a line today and set up a consultation.
---