Over a billion users come to YouTube every month to watch something that will educate or entertain them. And those users aren't just millennials or gen Z-ers. YouTube is getting more popular with users of all ages. So, all the more reason to reach your audience on this platform.  To make it easier on advertisers, YouTube offers a wide range of targeting options to reach your customers.
Some of these options are fairly broad, like demographics, topics, or interests. Others, like keywords and placements, are a bit more specific.
Finally, there are some very specific targeting methods: affinity audiences, in-market audiences, and life events. These last three are the best to use to create a successful YouTube ad campaign.
Keep reading to dig into these audiences and find out how they can best be used.
1. Life Events
Within the Google platform, anybody can target a user based on age and gender, but adding a life event can set you apart from your competitors. Life event targeting reaches potential customers when they are going through a major life milestone. For example, if you're trying to reach a younger demographic, instead of only setting an age range, you can also target people who are about to graduate and could be looking for a new job.
Google gathers data based on a user's search queries to determine what is happening or about to happen in their lives. There are many categories to choose from on the campaign dashboard, including business creation, college graduation, home renovation, job change, marriage, moving, new pet, purchasing a home, or retirement.  Additionally, this type of targeting is exclusive for YouTube and Gmail campaigns, which gives you an edge over your competition.
2. Affinity Audiences
Affinity audiences are primarily used for building brand awareness. In fact, this type of audience was defined the same way TV audiences are defined because advertisers love using this audience on TV advertisements to help drive offline actions or purchases among their audience.  So, Google created a similar audience targeting option in order to expand both reach and presence online at an efficient price.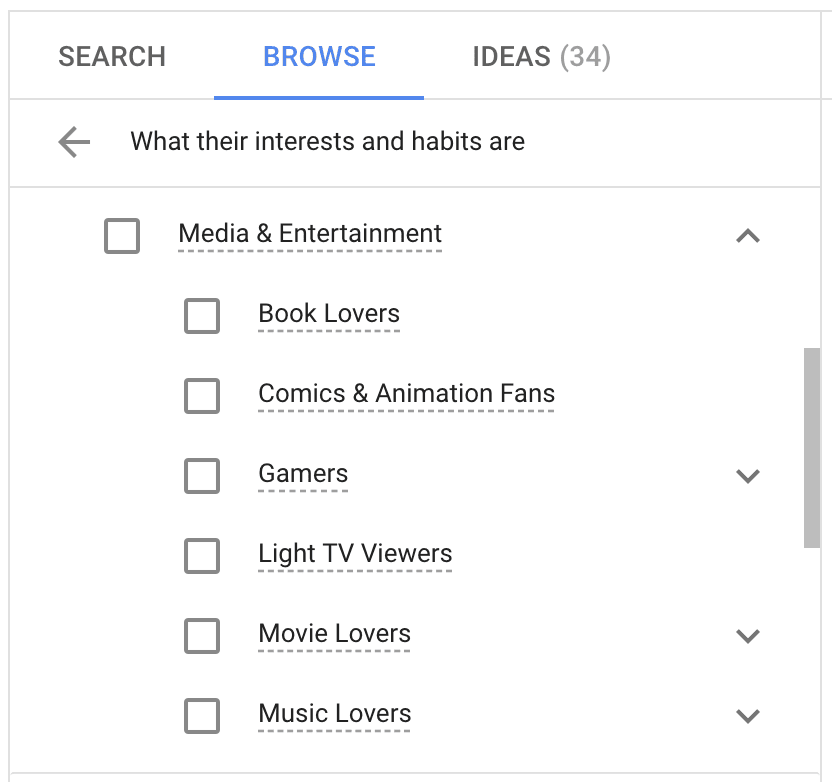 Currently, Google has a large list of predefined audiences to reach your potential customers on a large scale. These audiences include anything from banking and finance to media and entertainment to vehicles and transportation. Just like in life event targeting, each category has an additional drop down to get even more targeted.
3. In-Market Audiences
An in-market audience is the best choice if your goal is to drive engagements. It is a way to connect with the people who are actively researching your products and services on YouTube, Google Display, or within the Search Network. Think With Google says, "In-market audiences can drive incremental conversions, helping you to connect with consumers as the last step before they make a purchase decision."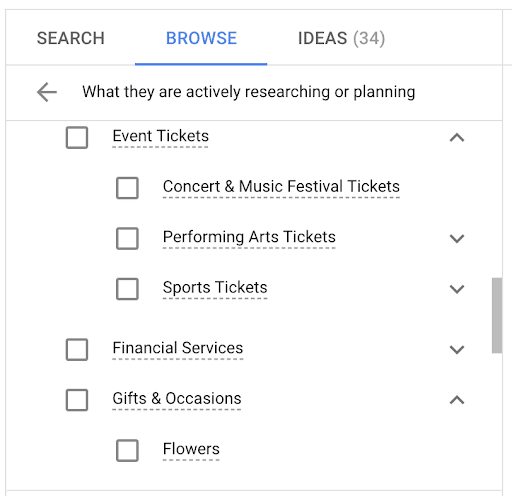 These can be defined anywhere from apparel and accessories to event tickets or travel; each comes with additional drop downs for more specific targeting. Google offers a predefined list of in-market audiences which you can download here.  
---
Digital Strike Bonus Tip: Customize your audience!
Another way to really target your intended audience in your campaigns is to build a custom affinity or custom intent audience. A custom affinity audience reaches people who are still in the research phase. To build a successful affinity audience, you need to use a combination of interests, commonly visited URLs, types of places that your audience maybe visiting or have shown interest in, or apps that they might be using.
A custom intent audience reaches people who are further along in the sales funnel and who are about to make a purchase decision. To build a custom intent audience, you need a list of keywords as well as a list of commonly visited URLs. Google recommends focusing on 300-500 general keywords to reach as many people as possible.
---
To get the most out of your YouTube campaign, make sure you're leveraging these types of audiences in order to raise more brand awareness or encourage someone to complete an engagement on your site.