With sci-fi movies frequently portraying artificial intelligence (AI) as something uncontrollable and destructive, it's no wonder that many people have misconceptions about what AI really is and what it can (and cannot) do for individuals and businesses alike. We're here to tell you to stop doom scrolling online and take a deep breath—you can use AI in digital marketing to optimize performance and sales (and you won't be recreating The Terminator in the process, either).
What AI Is (Not)
Before we discuss what AI is, let's first cover what it is not.
It's not the Steven Spielberg movie. It's also not a front for Skynet.
Artificial intelligence is simply a type of machine learning; that is, it's machine-based decision-making abilities, pattern-recognition capabilities, and learning aptitude as opposed to the organic problem-solving skills we and non-human animals possess.
Despite what the news will have you believe, AI technology cannot replace most jobs in the digital marketing industry in its current state. Although, it can assist humans in this industry to optimize performance, profitability, and customer experiences.
Let's dig into these strategies a little more.
AI Marketing Strategies 101
The ins, the outs, and the in-betweens of AI marketing.
5 E-Commerce Examples
See how other companies are using AI to get inspired with your own digital marketing strategies.
1. Starbucks Product Recommendations
This coffee shop giant makes smart use of AI technology to encourage customers to buy products and join rewards programs—and it works!
The company's AI/machine-learning program is appropriately known as Deep Brew. Among other functions, it helps Starbucks give their mobile app users and loyalty program members personalized product recommendations using a combination of weather forecasting software and customer data (such as previous Starbucks purchases and location data). For example, Starbucks may give a sweet tooth-having user a hot, sugary drink recommendation on a cold overcast day, and a light fruity drink recommendation during a sweltering heat wave.
This personalization is far more effective than standard one-size-fits-all advertisements of years past. Deep Brew launched in 2019, and, in that same year, "Starbucks reported U.S. same-store sales growth of 6%." That's a latte extra sales!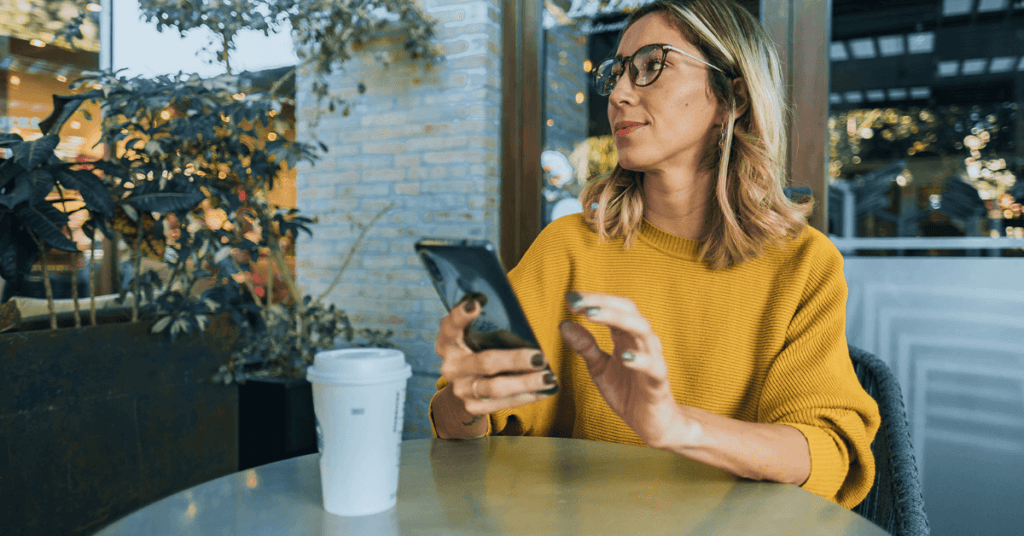 2. Apple and Amazon Virtual Assistants
Currently available virtual assistants like Apple's Siri and Amazon's Alexa aren't quite on par with Tony Stark's JARVIS. They can, however, use AI and voice recognition technology to provide convenient, hands-free tools like voice searches. These virtual assistants are able to work so well with voice input thanks to the use of natural language processing technology, or technology that allows AI to analyze and interpret human speech and synthesize this information to interact with real people in real time in a way that feels natural.
But virtual assistants do more than simply analyze voice data; they also keep track of plenty of other kinds of useful user information, such as search history, location data, and product purchases. By keeping a database of user information, Alexa and Siri can offer personalized recommendations, such as suggestions on new restaurants to try nearby.
Hey, Siri: how do you like them apples?
3. Netflix Viewing Recommendations and Content Curation
It might be Netflix and chill for you and bae, but, behind the scenes, this streaming platform is anything but relaxed.
Netflix's algorithm works overtime to display content early in your feed that it thinks you will like. It bases these recommendations on what viewers similar to you rate highly or what content you have watched in the past. Based on viewership numbers, AI also helps Netflix executives predict what types of shows will be successful in the future, helping the streaming platform decide which shows to greenlight and which to cancel.
The goal of these algorithms is to keep people watching more content for longer periods of time—and renewing their subscriptions year after year. These algorithms are effective, too; some estimate that as much as 75% of what users on the platform watch is discovered via auto-generated recommendations. Think about that the next time you log into your (or your friend's) account.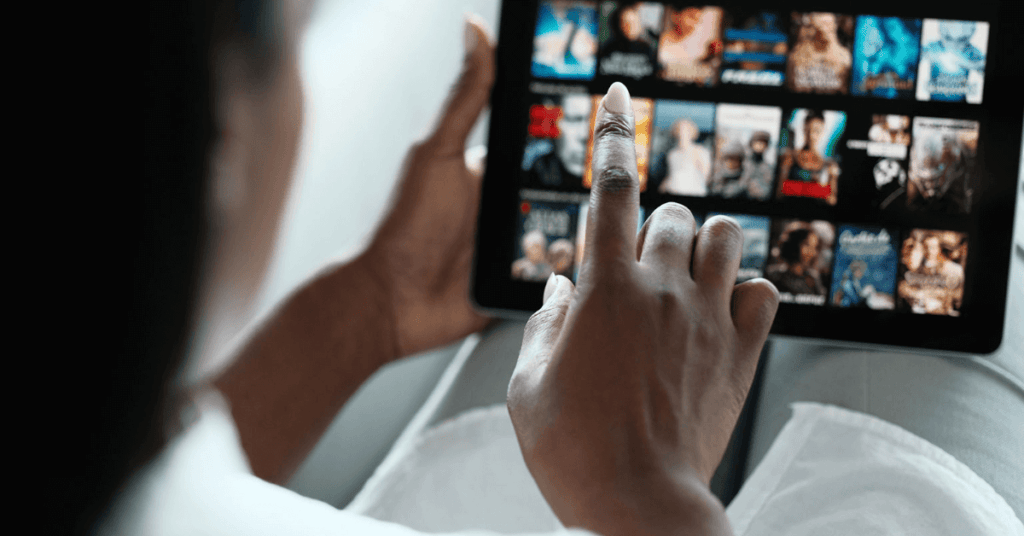 4. Amazon Product Promotions
It might seem like Amazon can read your mind, but the truth is far less glamorous: all those spot-on product recommendations are curated by algorithms sifting through massive amounts of consumer data.
You see, as the largest retailer on the planet, Amazon knows a thing or two about targeted AI marketing. Their most profitable use of AI marketing is using consumer data to generate product recommendations customized to each user (including you!).
What sort of data, you ask? Data that makes Amazon's product-recommendation algorithm so efficient includes:
Personal purchase history

Other people's purchase history (including what items they have bought together)

Time of the year

Location

Products users have viewed before/put on a wish list

Customer reviews
Using this data, algorithms can make and then push these recommendations to users both on the site (Your Recommendations) and via email campaigns.
The result?
Big bucks for Bezos.
These recommendations generate up to 35% of purchases on the site, providing Amazon with an incredible return on investment (ROI) through AI marketing.
5. Snapchat Filters
Remember in third-grade math when your teacher said you can't use a calculator on your test because you won't have a calculator on you at all times in the real world? Well, now we do have a calculator on our hands at all times, and you can use that same device to turn yourself into a dog that vomits rainbows. Checkmate, third-grade math teacher.
Snapchat is more than just fun filters, though. It's also an incredible advertising platform for big-name brands.
Many people might not automatically think of Snapchat when they think of AI, but this popular app has long capitalized on augmented reality (AR) and AI tech to offer users unique and interactive experiences. Brands have taken notice of this popularity and used this tech to generate personalized experiences for users in the hopes of converting them to future customers.
Take, for example, L'Oréal USA. This makeup brand partnered with Snapchat in 2016, becoming the first beauty brand to create a sponsored lens on the platform. The resulting filters allowed users to effectively test new products by superimposing makeup, skincare, and hair style lenses onto users' faces through a combination of AR and AI tech. The result was a fun, customized experience for users that simultaneously advertised L'Oréal USA products like mascara, lipstick, and hair dye.
The results weren't just fun for users, either; they were ridiculously profitable for L'Oréal USA, too. Some of its products saw a massive boost in sales, such as a 51% increase in sales of one of its clay masks. It's therefore no wonder that the beauty company has run other Snapchat campaigns since its first in 2016.
3 AI Marketing Strategies for Your Business
Check out the following tips, tricks, and tools for implementing your own AI-driven digital marketing strategies.
1. Use Chatbots
Rise of the Machines might have been more accurate if it focused on the recent surge in chatbots.
Using natural language processing in ways similar to Siri, chatbots can help users instantly (or nearly instantly) with a wide range of concerns and queries around the clock. That's why it should be no surprise that chatbots are growing in popularity among not just businesses, but also consumers. According to one ServiceBell consumer survey, around 60% of participants reported that they "like to send and receive messages using a chat service rather than deal with an agent for help with an issue."
In addition to potentially offering an elevated customer experience, chatbots can also save businesses money and time when dealing with customer inquiries. Additionally, these bots can provide businesses with invaluable real-time consumer data that companies can use to further improve services and products for consumers.
The best part about chatbot services today is that they can fit just about any budget. So, if you have a B2C or massive B2B company that emphasizes sales or customer service, utilizing these services could help your business improve not only user experiences, but also long-term savings.
2. Try Digital Advertising AI Tools
Finding a target audience, building a campaign, testing out various layouts, adjusting bids… There's no way to sugarcoat it—running digital ad campaigns is hard. Wouldn't life be easier if you had some help here?
Thanks to advancement in AI tech, you may now be able to do just that. Tools like Albert.ai can assist human advertisers with their social, paid search, and other online ad campaigns. It works like this: humans run the show and generate creatives, while Albert continuously works across channels to optimize bidding, demographic segmentation, and more for these campaigns. The result? A partnership of human and AI tools that could be a predictor of where the digital advertising industry as a whole is headed.
3. Discover AI Email Marketing Tools
If you've got (e)mail (campaigns), AI tools may strengthen your existing email marketing strategies. Long-reigning email automation champion Mailchimp is just one of many companies folding AI tech into their product offerings, using machine-learning technology to optimize subject lines, design layout, and more.
Like AI ad tools, current AI email marketing tools don't replace human workers so much as they partner up with us. Louis, I think this is the beginning of a beautiful friendship.
The Future of AI Marketing – 6 Predictions
As we've said time and again, we aren't living in a sci-fi movie. That means no time machine, which means we cannot know for certain what the future of digital marketing holds. Although, many experts (including us here at Digital Strike – Targeted Marketing) believe that the use of AI in this industry will only increase.
Here's what we believe that future will look like. Just don't quote us (unless we're right).
1. Hyper-Personalized Experiences Remain the Norm
Hyper-personalized experiences aren't becoming the norm; they already are. It's why you see oddly specific ad after oddly specific ad while scrolling through your phone.
We expect this situation to remain the same for the foreseeable future.
After all, when hyper-personalized experiences mean hyper-effective marketing campaigns, how could we expect any different? Starbucks and Netflix, for instance, show just how lucrative offering personalized user experiences can be.
2. More Companies Will Use Augmented Reality
AR allows companies to elevate their hyper-targeted ads and experiences (and sales), as seen with L'Oréal USA's Snapchat campaigns. With more and more online users craving unique and helpful experiences, the use of data and AI tech to create such experiences can only be expected to continue. By some estimates, the AR advertising market is expected to be worth $3.5 billion by the end of 2022. Who wouldn't want a piece of that pie?
3. Improvements in Customer Relationship Management (CRM) Software
CRM software is standard fare in the B2C world, and we expect that most of this software will continue to or begin implementing machine-learning tech to improve performance and efficiency. Since AI can sift through and analyze big data sets far more quickly and effectively than humans can, it will allow CRM products to offer real-time customer insights and swift optimization suggestions. That's why it's no surprise that IDC estimated $1.1 trillion (yes, trillion) in revenue from "AI associated with CRM activities" at the end of 2021. With money like that on the line, there is plenty of incentive for CRM to use AI more and more in the near future.
Just don't expect CRM products to replace current human employees. Like other AI tools currently available, AI-powered CRM software can only complement human input, not replace it entirely. Until massive leaps in AI tech occur, we see no reason to believe that AI-powered CRM software will replace us meat bags any time soon.
4. Increased Use of Content Marketing Software
Content creation is absolutely critical to best SEO practices. Without content, there is no Internet! It therefore only makes sense that people have tried to marry AI and content generation. The results are promising, with current AI content generation software showing an ability to mimic certain writing styles.
That said, like other AI tools on the market, current content creation software cannot totally replace human workers (and the author isn't just saying this because she wants to keep her job). For starters, while software can mimic writing styles, they cannot yet totally create their own unique style. Furthermore, this software still requires human input to deliver polished content that other humans will enjoy reading.
5. Further Legislation of AI Art
Lensa, DALL-E, and other AI art-generating software have made waves in the art world, and for good reason: AI makes some darn good visual pieces… and that leads to the existential question of what exactly makes art "good" and how art "should" be created.
One AI-generated art piece ("Théâtre D'opéra Spatial"), for example, placed first in its category in the 2022 Colorado State Fair. This win caused major upset among human artists who claimed that this art piece violated the competition's rules. But the AI art controversy extends past one competition. Many visual artists are upset that AI software developers are using their artwork without their permission to help AI learn how to make new art and mimic certain artists' styles. Still others are worried that AI artists will completely replace human content creators, giving a whole new meaning to the term "starving artist."
Since AI art is still so new, AI artwork is largely unregulated, although many governments—including the US—currently maintain that AI artwork cannot be copyrighted. We expect that stricter government regulation will occur in the future, specifically in regards to how software developers use human-generated artwork to plug into their machine-learning tools (and if this use constitutes copyright violations).
6. AI Will Replace Jobs (But Create Many More)
The largest concern with AI (outside of triggering a Terminator-like doomsday event) is that it will displace human workers, completely erasing jobs for real people in certain sectors of the economy. According to the World Economic Forum's "The Future of Jobs Report 2020," that fear isn't unfounded—AI is expected to replace humans in jobs by 2025. 85 million humans, in fact.
Okay, that's the bad news.
The good news?
This report also estimates that AI will generate 97 million jobs in that same period. That's a net gain of 12 million jobs!
While the future of this industry is clearly changing (and is bound to come with growing pains), we want to assure our readers that the future isn't as bleak as some people make it out to be. Human workers are still needed, because AI as it currently stands cannot authenticate genuine human connections and insight.
And when you need real human insight into your digital marketing strategies, you know who to call.