You want your marketing dollars to generate new leads and engage current customers, but you also need that strategy to be cost-effective.
Email marketing is the answer.
Don't believe me? Just check out these email marketing stats that'll melt your face off faster than Tool's Lateralus album:
Email is the third most influential source of information for B2B audiences, behind only colleague recommendations and industry-specific thought leaders. So basically, it's only behind word-of-mouth.
Click-through rates (CTRs) are 47% higher for B2B email campaigns than B2C email campaigns. Say whaaat!
Consumers who purchase products through email spend 138% more than those that don't receive email offers.
73% of millennials identify email as their preferred means of business communication. According to Pew Research Center, there are about 71 million millennials. 73% of 71 million is over 51 million. That is a lot of people who prefer email, and it doesn't even account for other generations. 
Interested now?
With so many digital marketing channels available to the modern marketer, you might be thinking "is email marketing still a valuable part of my digital marketing strategy?"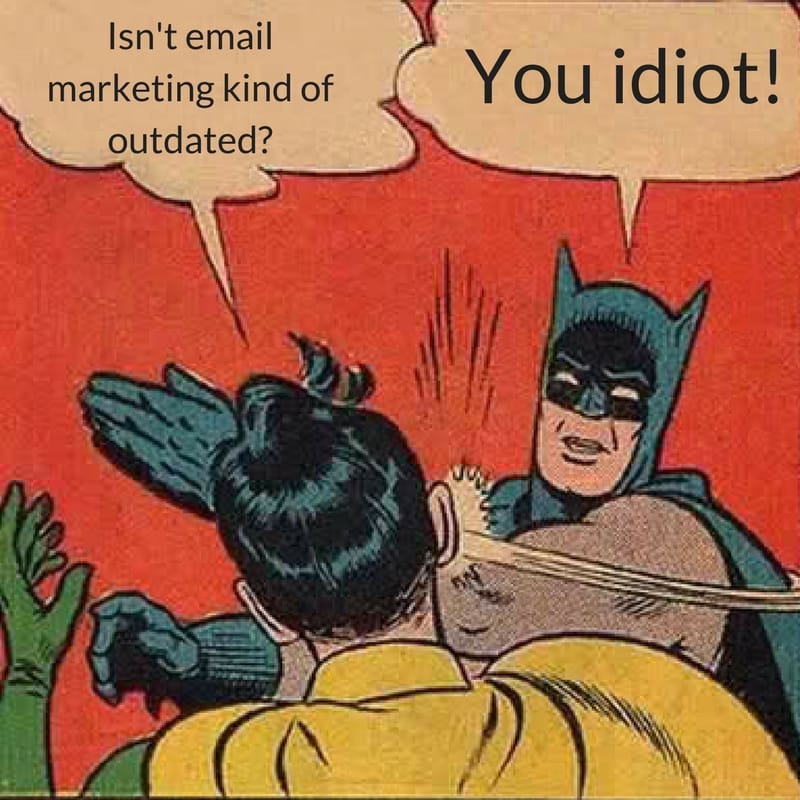 Email marketing is still one of the best ways to reach and engage with your audience. That last sentence applies to all businesses big and small because the ROI is incredibly scalable relative to other mediums. So, small businesses can do email marketing as well – it's not just a big-budget project!

But what is the actual Return-on-investment (ROI) for email marketing?
It obviously depends on the business, what you're offering, how big your list is, and if you have good content to share. If you're an eCommerce website, your customer-base might make react positively to transactional emails, meaning a great email blast could yield huge dividends. 
For a B2B company, however, your ROI might be more closely tied to broader lead nurturing goals as the customer journey is typically a bit longer. In these cases, you may be better off working on a content marketing campaign or simply building brand awareness. 
That being said, according to an eMarketer study, the median email marketing ROI is 122%. 

That is not a typo. 
And that is four times higher than any other digital marketing channel.
BENEFITS OF EMAIL MARKETING
Even though email seems quaint compared to the sophisticated ways we interact on the internet nowadays, the number of email users around the world is still growing. At the end of 2019, the number of email users worldwide reached 2.9 billion. That is over one-third of the planet's population.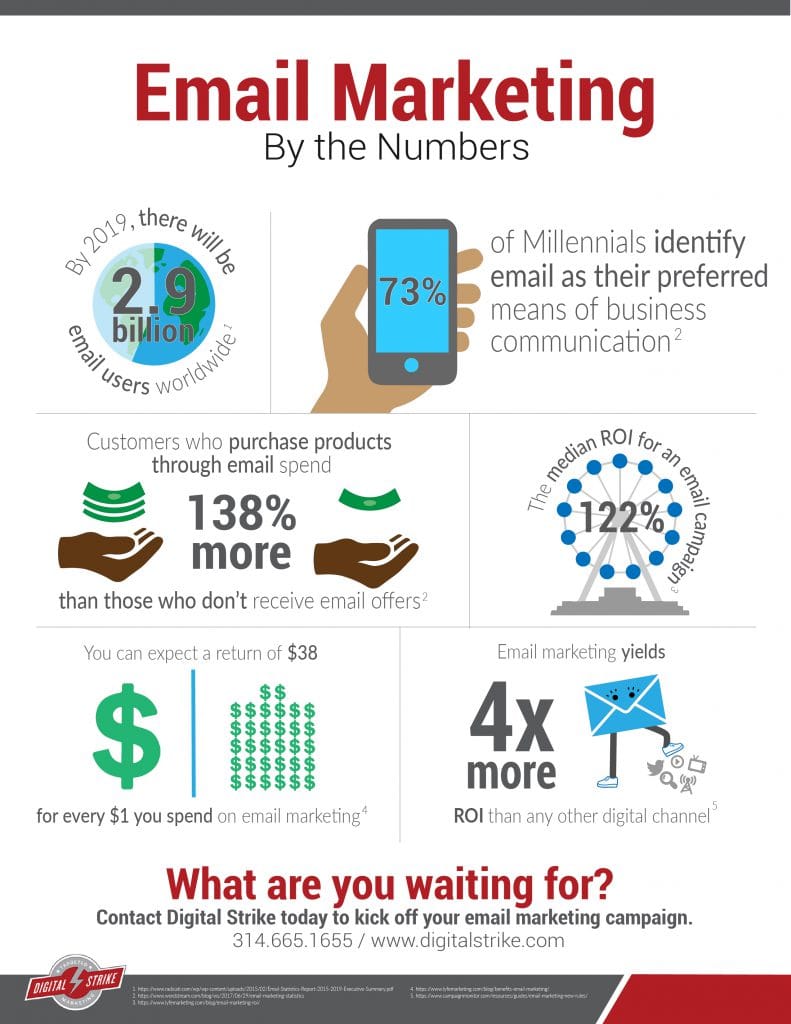 So, email isn't going anywhere and here's why:
Your customers check their email every day 
How many times have you checked your email today? At least once, right? Maybe a few times if you're at work.
It probably varies from generation to generation, but let's say that the average person is checking their email at least twice a day. That means you can get in front of your audience's eyes on a regular basis. 
Additionally, if your contacts completed a traditional opt-in for your email newsletter, your email list will be excited to hear from you.  
Email marketing often leads to higher conversion rates than other online marketing tactics
By creating a well-written email that ends with a clear call-to-action, email marketers can encourage readers to take that next step in their buyer's journey – moving them ever closer to conversion. 
If a subscriber has already bought something from you, they're more likely to be receptive to your emails, and then more likely to convert again. 
What's more, once they've become a repeat customer, you can use the information they've given you to increase your email's personalization. 
Take an eCommerce email as an example. These are written with one goal in mind: get the user to make a buying decision. 
You can center your content around the topics that interest them the most based on your Google Analytics intel, CRM data, and other email marketing statistics. Oh, they visited three pages on your website looking browsing brown zip-up jackets, but never purchased one? Send an email that promotes your selection of brown jackets, and maybe throw in a set of your jeans that would complement those jackets very well. 
All these factors make marketing emails more effective to repeat customers.  
It's more cost-effective than traditional marketing tactics
It's inexpensive compared to direct mail and print media. 
With social media becoming more pay-to-play for businesses, it just isn't the best way to get in front of your audience. Email marketing only requires a small investment of time and resources to develop compelling content.
According to one report from DBS Data, you can expect an average return of $38 for every $1 you spend on email marketing. That's amazing!
You'll increase traffic to your website
One of the most significant marketing challenges is generating website traffic. 
There are a variety of digital marketing tactics that help you improve your traffic, like SEO and social media management, but ranking on Google takes a lot of time and resources to develop.
SEO takes at least six months to a year to really get going, and social media requires daily upkeep if you want to stay relevant.
Speaking of relevance, email marketing not only increases the click rates toward your landing pages, but it helps make sure that traffic is relevant. The people interacting with your emails are already in your marketing funnel, so they've already shown interest in your company.
The more high-quality leads going to your website, the more opportunities you have to influence more conversions.
Keep in mind some contacts will unsubscribe from your emails, but know that this is very natural. If they aren't interested in going to your website, then they shouldn't be receiving your emails anyway.
It's easy to track and measure
One of the best features of this tactic is how easily you can track email ROI. 
With the proper tools in place, you can see exactly how many people are opening, reading, and clicking on your email content. It's so easy to see whether the campaign was successful and see how much of an ROI these campaigns are offering your business almost instantly.
This feature of email marketing makes setting realistic key performance indicators (KPIs) a breeze. Email open rates, click-through rates, and conversions are all easily trackable throughout these campaigns. 
Even if you don't hit the marks you are aiming for, you can see exactly how far off you were and understand what you need to do differently next time. 
As you make adjustments to subject lines, messaging, and types of offers, you can continue to track success to see which strategies are bringing you the best results. You're also measuring deliverability, so you know how many people even have access to the marketing materials you're putting out.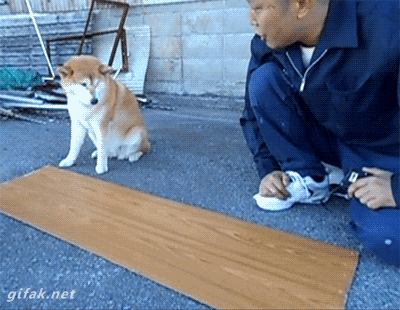 You can target your email marketing campaigns for better results.
List segmentation! Segment or separate your list into different groups with relevant characteristics or interests. Once you've done this, you can deliver more targeted content to your readers.
It'll increase the relevancy and value, which can encourage more conversions.
For example, a bra company called ThirdLove makes a note of your bra size after you make a purchase and then sends you emails with bras of just that size.
Customers are definitely more willing to open that email and convert because they know that everything offered is for them.
Or if you're a larger retailer like Kohl's or Target, you can segment your list by gender, age, past purchases, etc., and target your list with content they might actually want to see.
You aren't going to have a high click-through-rate (CTR) if you're sending information about suits to someone who has only ever purchased dresses from you. Or if someone bought a book from your store, don't send them an email about shoes.
You can automate a lot of the process 
What separates email marketing from other marketing efforts is you can remain in constant contact with your customers while reducing the amount of work on your end.
Now, while your email's content is what drives the revenue, your ROI of email marketing grows even more by reducing costs. Setting up automated email campaigns accomplishes just that, freeing up time and resources for you to focus on other things. 
This a great step toward producing higher return-on-investment because once you put the work in, the system then does the work for you. 
Depending on your email marketing software, you can easily send email subscribers different types of emails based on a few factors. HubSpot, for instance, makes it easy to make emails and automatically send them to the right customers. They also allow you to use signup forms in your WordPress, which then integrate with your CRM. They also offer popups on your website plus other email marketing services. Mailchimp also offers automation services, but they aren't as fully integrated with your website.
In practice, you can immediately follow up to a new subscriber by setting up your marketing automation or autoresponder to send a welcome email. This is a great way to stay fresh and relevant in front of new customers as well as new subscribers.
The possibilities are endless for the personalization you can automate into your email campaigns. 
Optimize content by testing it in emails
Maximize open rates and conversions by testing your content and figuring out which types of messaging and offerings work best for each audience. You'll really get to know what your audience loves and hates by A/B testing on subject lines, content, emojis, size of images, what kind of images, CTAs – the list literally goes on and on. The A/B split possibilities are endless.
Email integrates easily into your other marketing channels
Take content from your emails that has performed well and develop several social media posts from it without having to start from scratch. You can also use email marketing to promote a social media contest. Once again, the possibilities are endless.
THE TAKEAWAY
The benefits of email marketing definitely outweigh the drawbacks, but if you want to calculate your potential ROI before starting your email campaigns, you can! Check out this email marketing ROI calculator.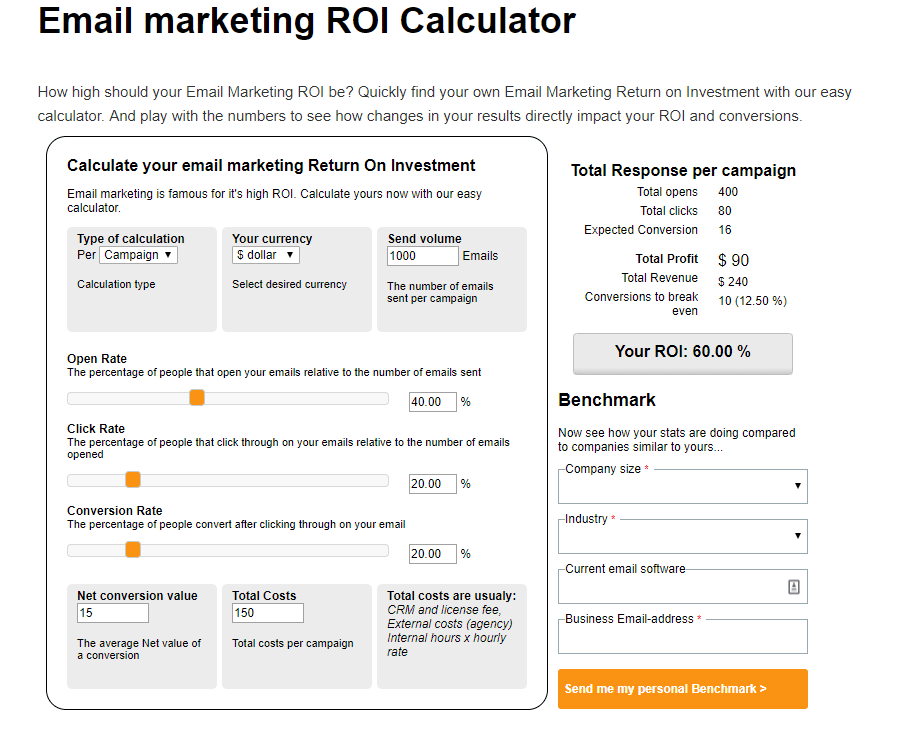 Let's say per campaign, you send 1,000 emails. Only 40% are opened. Then only 20% clicked, and 20% converted. Your ROI is still 60% if you only spent $150 on the campaign. Once you have content and an email template set up, making the actual email doesn't take a lot of time.
Email marketing requires a lot of set up, but in the long term, it can pay off in droves.
If you need help setting up your email marketing strategy, give us a shout! And while you're there, you can subscribe to our monthly newsletter.