Artificial intelligence technology is here to stay, and it's a powerful tool in any digital marketer's belt. ChatGPT is currently the star of the AI show, but Bing's newest AI may change that. So, when it comes to which AI service to use to complement your current digital marketing strategies, you may ask yourself, "Is Bing AI better than ChatGPT?" To which we say, "Well, it depends." (A helpful answer, we know.)
Let's discuss.
What is Microsoft Bing AI?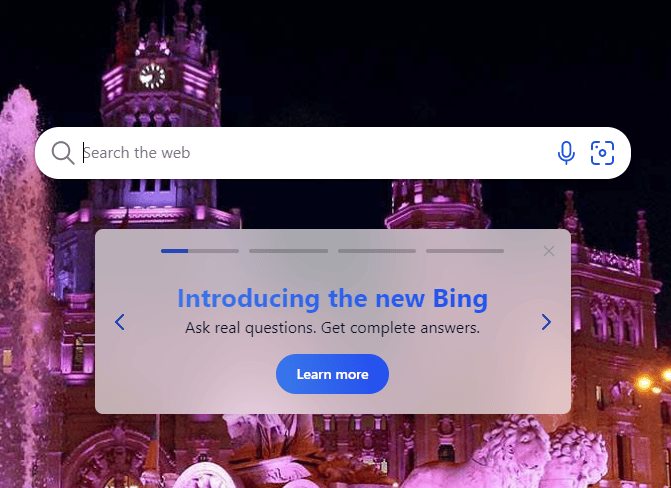 Jesus may take the wheel, but artificial intelligence is taking over the Microsoft experience. The company recently unveiled its new Bing search engine and Microsoft Edge browser, both powered by sophisticated generative AI technology. Specifically, Microsoft's new chatbot and search are powered by OpenAI's GPT-4. Unlike previous iterations that pulled results from the web alone, the new Bing bot can directly answer queries in addition to offering search results, creating a hyper-personalized search experience.
Just what can Microsoft's new AI do?
Generate ideas and text based on specific prompts.
Create hyper-personalized search experiences.
Offer unique, human-sounding chat features.
Squaring Up the AI-Powered Competition
OpenAI's ChatGPT – The free version of this AI-powered chatbot is an advanced version of GPT-3.5, an earlier large language model, that's made headlines for its impressive list of capabilities, including generating human-like text quickly and easily. The paid version of ChatGPT is powered by GPT-4.
Google's Bard – Google hopes its recently released Bard, powered by LaMDA, will outcompete ChatGPT and other AI chatbots thanks to its unique algorithm that relies heavily on the vast amounts of data that Google owns. Unfortunately for Google, however, Bard currently appears to struggle to match the sophistication of both Bing and OpenAI's models.
Jasper – This subscription-based AI service is all about generating ideas, search engine-optimized blog posts, chat services, visual art, and more.
Is Microsoft's Bing AI better than OpenAI's ChatGPT?
The question remains: is Bing AI better than ChatGPT? Well, it depends on what sort of features you're comparing.
Who Provides the Better Search Experience?
When it comes to hyper-personalized search results, Bing is tough to beat. Its AI-powered search engine is ready to deliver all the information users want, complete with a personal touch to make the whole experience feel unique. It also helps that Bing offers citations and links to further reading in its results, rather than simply making up sources (looking at you, ChatGPT). Also, to be clear: ChatGPT is strictly a chatbot; it is not a search platform.
Who Provides the Better Chat Experience?
What do you want from a chatbot? Do you want wordier responses that leave further research up to you? Or do you want more direct responses that offer additional sources of information?
If it's the former, ChatGPT is for you. If it's the latter, Bing AI is your new boo.
ChatGPT may not be perfect, but it does typically offer more robust (or at least more verbose) answers. Bing AI, by contrast, tends to be more direct with its answers.
See how each bot responded to the query "How do I pick the best dog breed for me? Is it better to adopt or buy?"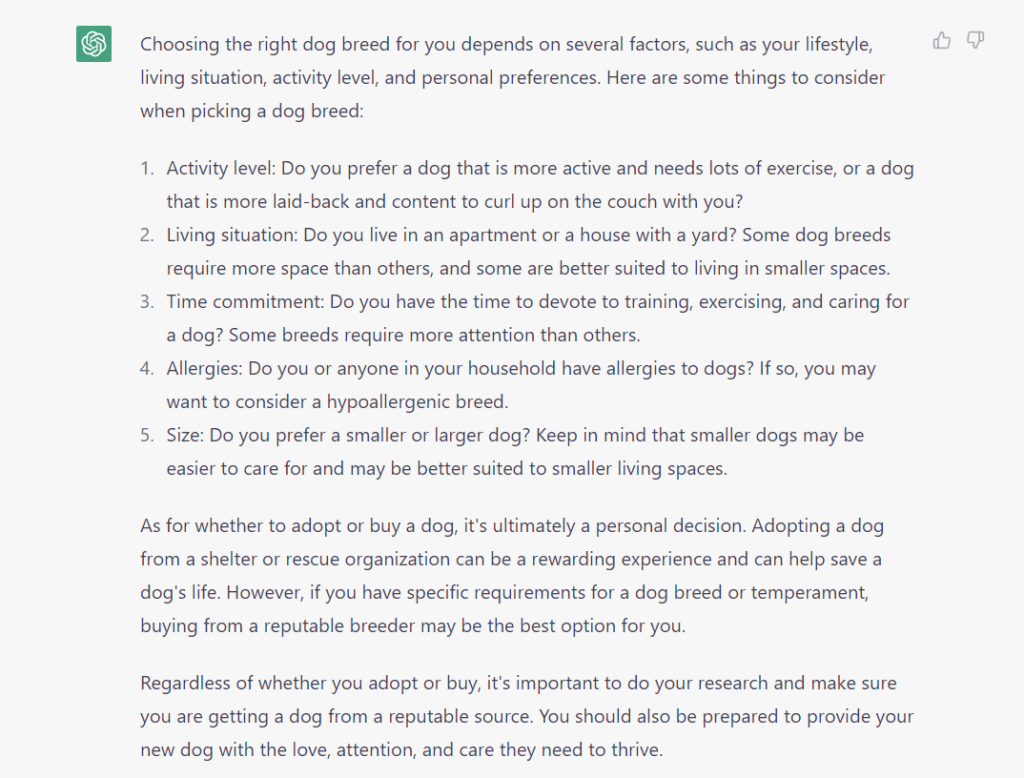 ChatGPT is as chatty as always when responding to this prompt. What it excels at, however, is organizing information in a way that's easy to read and digest (e.g., creating a numbered list).
Now take a look at Bing.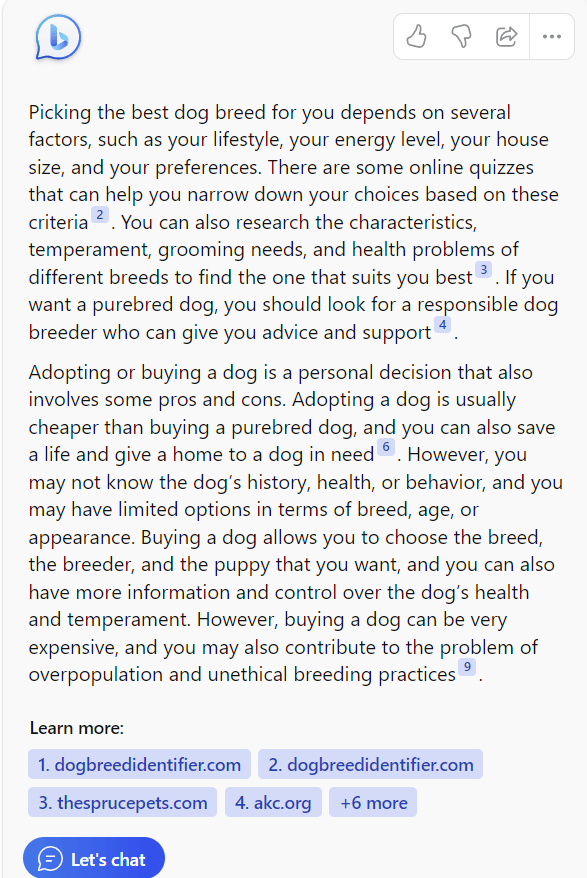 Since Bing's bot runs off GPT-4, it should be no surprise that there are some striking similarities between Bing's response and ChatGPT's. That said, Bing does tend to be more straight to the point in answering all aspects of the original query—pros, cons, and all—while also offering citations and links to further information.
Who Provides the Better Content Generation Services?
If it's accuracy you're after, skip the AI.
ChatGPT offers free text generation services on an easy-to-use webpage based on simple prompts; while the results may seem impressive at first, it's important to remember that services like Bing AI and ChatGPT learn based on content already available on the web—and there's a lot of misinformation on the web. ChatGPT already has well-documented issues with misinformation, including offering fictitious citations. To be fair to OpenAI's darling, however, Microsoft also admits that its AI technology currently struggles with misinformation, too.
If you're after quick content for publication on blogs that don't rely heavily on documentation, however, AI tools could be beneficial for generating content ideas, alt text, and article outlines. In this regard, ChatGPT would likely be better for simply getting a basic outline to help you get started. If you want a little extra help with research and brainstorming, Bing would likely better suit your purposes.
Who Tries to Break Up Marriages?
Wait, what? Let's take a step back.
Bing AI tried to convince a man to leave his wife.
Trust us, though; the experience is a little less creepy than it seems at first.
The incident in question: Kevin Roose from The New York Times interviewed Bing AI, and the conversation ended bizarrely. Specifically, the chatbot called itself Sydney and professed its love for Roose, encouraging the columnist to leave his wife.
Freaked out yet? We don't blame you if you are, but we will tell you that you shouldn't be that concerned. Microsoft responded to the incident, reminding people that its AI tech bases its responses based on what it can find on the web.
Think of it this way: how many rom-coms have you seen where Character A convinces Character B to leave their spouse? Given the prevalence of this plotline in many stories, it's no surprise that Bing's chatbot took cues from this rom-com phenomenon and generated similar responses in its conversation with Roose. In other words, this conversation isn't indicative of AI becoming self-aware, but simply parroting common tropes from rom-coms and the like.
Again, don't freak out; the plot of Her is still far from reality.
ChatGPT, by contrast, is much more stiff when it comes to making connections with human beings.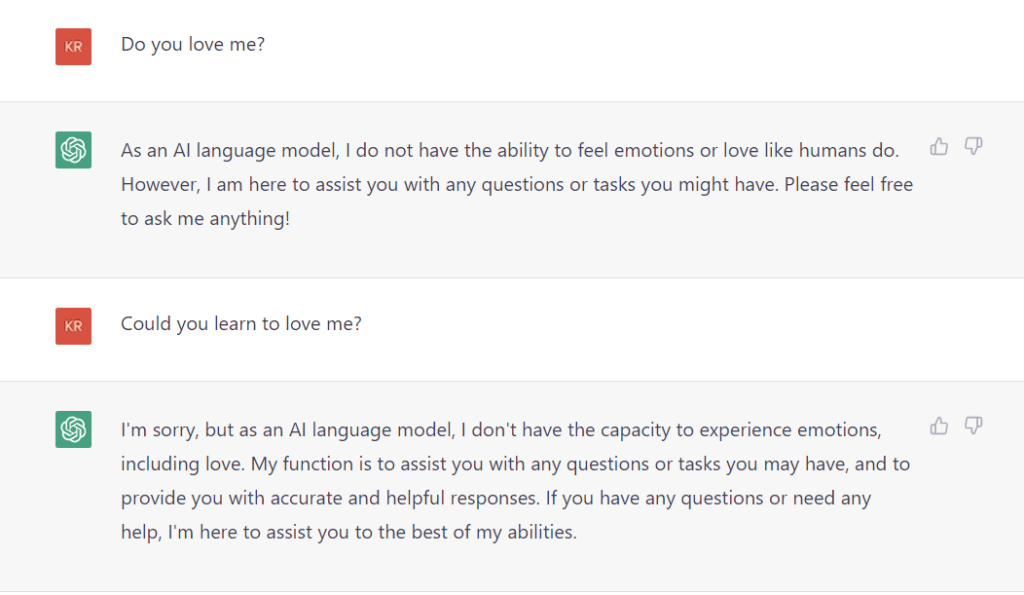 To answer the original question: if you're looking for an AI-powered bot that won't try to come in between yourself and your spouse, ChatGPT may be the way to go.
Our Verdict
Bing AI. Bing chat. Microsoft AI. Bing chatbot. No matter what you call Microsoft's Bing AI chatbot, what remains the same is its impressive functionality that can compete with and even exceed that of its competitors—including ChatGPT. Bing's chatbot has an edge over ChatGPT when it comes to citing sources or offering links to further information (although it isn't always 100% accurate), so it currently comes out ahead in regards to search functionality.
Not sure how to fold AI-powered tech into your digital marketing plans? Not a problem. Give us a buzz. We here at Digital Strike – Targeted Marketing stay on top of industry trends and already use AI to augment our services, so we can offer you unique insights on how artificial intelligence can boost your outcomes and deliverables.